Saturday, July 31, 2004
|
Friday, July 30, 2004
|
|
|
|
Thursday, July 29, 2004
|
|
|
|
Wednesday, July 28, 2004
|
|
|
Tuesday, July 27, 2004
|
|
|
Monday, July 26, 2004
|
|
Friday, July 23, 2004
911 PANEL REPORTS; STUNNED NATION ACCEPTS BLAME
By Stockton & Tweed
The 911 Panel has issued its report assigning blame for the terrorist attacks on September 11, 2001, on American freedom and culture. In addition to basic American freedoms, and American culture, the Panel also identified, among others, President Bush, Vice President Cheney, former President Clinton, Sandy Berger, Billy Joel, weird Al Jankovich, Michael Bolton, Pauley Shore, Thomas Jefferson, George Peppard, Joe DiMaggio, the Hairdini, Buete Montana, Ronco Corporation products, the Hudson River Valley, pet rocks, Joni Loves Chachi, the Chrysler Building, the Hardy Boys Mysteries, apple pie and Stan Luzinski of Gary, Indiana.
While the Panel generally attributed a lack of coordinated effort and political will to directly confront terrorist groups on the part of the public officials blamed, the Panel gave a variety of reasons why everyone, and everything, else deserved blamed.
Luzinski: Denies Culpability
"Billy Joel's last few albums really just stunk - and that created a depressing atmosphere that hampered sharp thinking," said Fred Fielding, a member of the Panel. "We really wish he stuck to things like 'Only a Woman' and 'The Stranger'."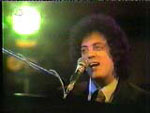 Commission Says Maybe
He Did Start the Fire
"After hours of testimony," Fielding also noted, "we reached the conclusion that it made sense for someone to want to destroy the country that produced both Michael Bolton and Pauley Shore. Heck, I want to kill them."
Panel Chair, former Governor Keane of New Jersey, singled out weird Al for special condemnation. "weird Al, by breaking a number of taboos, gave a false impression that all Americans were, . . . Well . . . Weird - and that caused a lot of hatred."
More Concerned With Liberty
Than With Safety of Country


The reasons others made the list were equally varied:
Thomas Jefferson: committed to individual liberty and freedom.
George Peppard: followed-up Breakfast at Tiffany's with A-Team
Joni Loves Chachi: really bad show
Joe DiMaggio: set standards for center-fielders too high.
"DiMaggio's conduct really stands out," noted Panel member and former US Senator Bob Kerrey. "The feeling of worthlessness when compared to DiMaggio's play was too much for the psychological well-being of people who are willing to strap bombs to their body."
The Hairdini:
Too Much to Bear

While the Panel spread the blame, reaction was quick from the White House and other government officials. Vice President Cheney began the barrage of White House attacks by reviving the claim that Fred Fielding is "Deep Throat," and claiming that John Kerry has voted for every tax ever considered by the US Congress since its inception.
The Yankee Clipper:
Set Baseball Standard Too High
for Safety of Country
In a press release, the Chrysler Building denied any wrongdoing and asserted that to the extent it was involved in any way with the terrorist attacks that it was doing what every other building happened to be doing: "Chrysler Building believes that this is an unwarranted attack on Chrysler Building, Woolworth Building, Sears Tower, Prudential Building and the other buildings named in the report. As buildings, we resent the implications of the report."
The Bear Mountain Bridge in the
Lower Hudson River Valley Was
Singled Out for Particular Blame
Political analysts believe that the Panel's report will have little impact on the 2004 election because of the broad scope of the blame it suggests. "When we can point to the acts of Buster Keaton, Paris Glendening, Miles Davis, Frank Lloyd Wright and Herman Melville as causes of the 911 attacks, the criticism of the President is blunted," noted LB in 04 political commentator Pilsbury.
The corpse of Harry Truman could not be reached for comment.
According to Commission,
Kind of Blue
Failed to Impress Islamic Fundamentalists
Lee Hamilton and other members of the Panel were very pointed in the breadth of their criticism. "We must all recognize," said Hamilton, "that we are all of us to blame in some way or other - whether it was by watching that Pauly Shore movie, visiting the Yellowstone or reading about Lincoln's Second inaugural address." Hamilton went on to site his own daliances with white-boy hip-hop showing a picture of himself with a Vanilla Ice haircut.
Cute Kids Cartoon or Spark for
Islamic Hatred
In talking about the breadth of blame, Panel member Goerlick also pointed out the roll of Americas natural beauty. "Rolling planes of wheat and grain, majestic mountains, the northern California and Oregon coast line, not to mention smaller but equally impressive spots - the natural bridge in Virginia, Mt. St. Helens national monument and the Bear Mountain Bridge nestled over a narrow portion of the Hudson River. Compare all that to one big desert."
Panel Members Considered
Who May Really Be Buried
in Grant's Tomb

Hamilton also spoke briefly about the extent of the work of the Panel. "We left no stone unturned, no question un-asked, no cultural icon [un]examined. We understood from the beginning that the cause of all of this mess has been our great success as a nation - politically, culturally and historically. Our report lists those aspects of our country particularly deserving of blame. And the Amish - don't get me started on them; they're getting their own report."
Unwitting Contributors
to Terrorist Attacks
The Panel report also addressed the issue of moving forward and the steps needed to be taken to prevent terrorist attacks in the future. "Basically," said Fielding, "we need to stifle all free speech on the basis of David Koresh's or some other nut-job's reading of the bible, we need to re-tool our government agencies so that they operate on the basis of bribes, we need to ensure that whoever becomes president next stays there for as long as he likes and we need to establish a secret police force - and, oh yeah, we need to destroy all of our natural resources."
|
|
Thursday, July 22, 2004
|
|
|
Wednesday, July 21, 2004
|